This is a great generic bratwurst recipe, and wild turkey meat is a fine base for sausage. But like most recipes adapted from domestic to wild meat, fat is a critical factor.
Wild turkey breast is among the very leanest of game meats, and needs more added fat than others to prevent the sausages from turning out dry or mealy.
Hover here for the "skinny" on fat…
Game sausage recipes always include added fat, usually pork. They use words like "shoulder trimmings" or "butt" or just "fat".
The noble pig sports several types:
FatBack: (a.k.a. back fat) The hard fat found on the back of the pig. With a high melting point It is exceptionally well suited for sausage. It sometimes comes skin-on, in which case be sure to remove the skin before weighing or grinding.
Jowl fat: Prized by fancy artisinal sausage makers for it's more creamy texture.
Shoulder Butt: (a.k.a. Boston butt, shoulder) A roast heavily marbled with fat, excellent for sausage. "Pork Butt" is the most common source of fat specified in game recipes. Keep in mind a whole butt is about 30% fat, 70% lean. "Pork Butt Trimmings" are much higher in fat percentage, up to 90% depending on who did the trimming. So there is a huge difference and they are not interchangeable in a sausage recipe.
Belly Fat: (a.k.a pork belly, where bacon comes from) A soft fat with a low melting point. Some recipes call for it, but some sources consider it unsuited for sausage. Probably best not to use belly fat or bacon unless the recipe calls for it or you're experimenting on purpose.
Kidney Fat: (a.k.a. leaf lard) A hard intestinal fat concentrated around the kidneys. Some consider it a bit too hard for sausage, but it has the most neutral (least "porky") flavor, makes the flakiest pastries and the best lard.
Be warned that most grocery store meat counter folks, and even some butchers, don't understand all of the above. I've had butchers tell me there is no difference between back fat and shoulder fat, and it just ain't so.
Cost can vary all over the place – from free or close to it, to those who will charge as if it was loin. I'd never balk at $1 per pound or less. Let the buyer beware.
Print Recipe
Wild Turkey Bratwurst

Yum
Tweaking sausage recipes is part of the game. But two ingredients are worthy of caution: salt and fat. Too much or too little of either can ruin things. If adjusting fat or salt in a proven recipe, it's best to test with a small batch first. Salt density varies widely by type and even brand. Going by weight is safest. But if you measure by volume using a different type of salt than the recipe presumes—you could be way off. The intarwebs has a WIDE range of opinions on the salt density of the various types and brands. The volumes in this recipe are based on sources that seemed the most credible.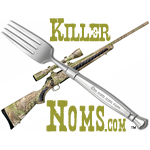 | | |
| --- | --- |
| | |
Cut meat and fat to fit grinder, mix together with salt and "Pre-grind ingredients". Refrigerate 2-12 hours.

Soak casings in warm water if you plan to stuff.

Place meat and removable grinder parts in freezer ≈ 20 minutes

Grind half through coarse plate, half through fine plate. This produces an interesting result, but it's OK to choose all fine — producing a more traditional brat. Or even all coarse if you prefer.

Add caraway and mustard seed. Mix well.

Return meat to freezer until firmly chilled (≤ 35°F)

Add remaining "Post-grind ingredients" (dairy & egg). Mix well.

Stuff into casing or form into patties. To make links, pinch about 6" apart and rotate 3 or 4 times away from you, then pinch the next link and rotate towards you. Continue alternating for the whole casing.

Poach links in 160°F water 25 minutes. Try to get close with the water temp — definitely do NOT boil or run longer than 25 minutes. Sous vide is even better than poaching - keeps more flavor in and easier to be precise.

Immediately chill links in ice water.

Hang links to dry. Refrigerate and use within a week, or freeze. Cook and serve like any other bratwurst.
Poaching is not 100% necessary, but with sausages containing eggs and dairy it works best, creating a nice firm texture. You can't poach patties (they'd fall apart) but you could use the sous-vide method to process them using the same time and temp.
Like any other game bird, it is important to take the time necessary to remove all shot pellets from the meat before cooking. It doesn't matter whether you use lead, bismuth, steel or tungsten - nobody but a dentist wants there to be shot in your food. And as for lead, no matter what you say or think about it, some of it is bio-available after cooking. It may be a small amount, but no safe level has been established for children or pregnant women.
Cook and serve them like any other bratwurst. Take them to at least 165°F. Best if nicely browned. Enjoy!
View online at
http://KillerNoms.com/turkeybrats