A bit more work than corned venison, but the result is MUCH better. It is simply spectacular in flavor and texture.
Print Recipe
Venison Pastrami (wet cured)

Yum
Meathead Goldwyn, the head poobah at AmazingRibs.com, has a famous quote:

"There should be no rules in the bedroom or kitchen. The exception is curing meats. The rules for this process are rigid."

Funny, but not really a joke. Creating a great cured meat product is not hard but requires a little care and precision. Read "The Rules" in the notes section below the recipe before you get started. And use the curing calculator (link in notes at bottom) to be sure you have correct amount of cure, and picking the correct duration for curing based on the size and shape of your roasts. Learning the principles on that excellent page will help you be safe and efficient when curing meats.

Pastrami is just a corned roast that, after being cured & rinsed, is covered with a traditional rub and smoked, then steamed to finish. Steaming leaves the meat more moist and tender than other cooking methods, producing great texture to go along with the iconic flavor.

Traditional pastrami is made from beef brisket. Lacking marbelized fat, venison won't have that decadent mouth-feel of a beef pastrami, but if you avoid cuts with a lot of connective tissue, you're still going to get a great result. Stick to rounds, sirloin tip, loins or even tenderloins. Neck meat, shanks, or shoulder roasts have too much connective tissue to make the best pastrami.

The traditional way to use pastrami is for sandwiches, especially the Rueben (KillerNoms.com/rueben). I hear that boneless Canada goose breast also makes great pastrami - but I haven't had a chance to try that myself.
| | |
| --- | --- |
| Servings | lbs trimmed boneless roasts |
| | |
| --- | --- |
| Servings | lbs trimmed boneless roasts |
In a stock pot large enough to hold the brine and the roast, add water and all the brine ingredients.

Bring to a boil on the stovetop, stir, then remove from heat.

Cool to room temperature then refrigerate until fully chilled.

Submerge roast completely in brine. Place a dinner plate on the roast to keep it submerged.

After curing is complete (see "The Calculator" below), remove roast from brine, rinse in cold water, and pat dry. At this point, the roast is "corned."

Optionally set on a rack in the refrigerator for 2 days to dry and form a pellicle, the thin, tacky film that helps hold the smoke flavor.

Grind the Pastrami Rub ingredients. Lightly moisten the meat with Worcestershire sauce and pack on as much rub as it will hold.

Smoke at 250° until the meat hits around 150°F. Fruit woods like cherry or apple woods are nice, though some folks prefer the bolder flavor of hickory. I'd pass on Mesquite for this.

Steam at 275°F until the center of the roast hits 200°F. For multiple roasts, the smaller ones will need to be pulled first to avoid overcooking. There are many ways to steam. One way is to add an inch or two of boiling water to a roasting pan, and suspend the roasts above the water using a rack of some sort. You don't want the roast actually in the water. The roasting pan should be covered either with an unvented lid or well-covered and sealed with aluminum foil, and placed in the 275°F oven. Check periodically for temperature, and add additional boiling water if it gets low. When done, rest for 15 or 20 minutes before serving.

Some pastrami recipes call for the roast to be chilled after smoking, then steamed to final temp. but going straight from the smoker to the steamer is fine if the timing matches your plans. Otherwise I would not hesitate to use the refrigerator as a convenient place to stage the roasts until I was ready to steam for final cook and serve. Just keep in mind it will take much longer to steam a refrigerated roast to 200°F than it will a roast that is already at 150°F. But it's way better then reheating an already fully cooked pastramy roast.
Pastrami freezes very well, and like any cured meat lasts a long time in the fridge.
Some EXCELLENT sauces to accompany this wonderful meat:
Mustard Sauce

1 cup Sour cream
2 Tbsp Dijon mustard
1 tsp sugar

Horseradish sauce

3 Tbsp butter melted with 2Tbsp flour > light roux
1 Tbsp sugar
1 Tbsp cider vinegar
1/4 cup prepared horseradish)
"Eye of round" roasts, or loins from smaller deer are perfect to slice into medallions for hors d'oeuvres.  A platter of miniature open-face Reubens on slices of rye "party loaf" will get rave reviews.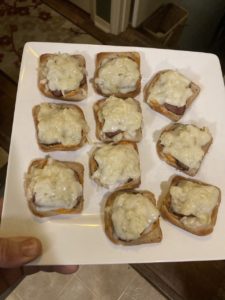 The Rules: Curing meats has specific rules. I recommend you read this section, then use the calculator mentioned towards the end to determine the correct amount of cure and the time needed to properly brine your roasts. The defaults in the recipe may not fit. This is extra important if you have a large, thick roast in your batch.
The recipe uses a wet "equilibrium curing" process for boneless meat. #1 cure is 1/16th Sodium nitrite (not nitrate) mixed with 15/16ths salt, tinted pink to avoid confusing it with plain salt. It's called Instacure #1, Prague Powder #1, and several other names. Though some just call it "pink salt", don't confuse it with Himalayan pink salt, which is NOT a cure. There is also a #2 cure, based on nitrate (with an a), which is used for things like long-term curing of dried salamis. #1 and #2 are NOT, repeat NOT interchangeable.
It is important to be accurate when measuring cure. Weight is the safest repeatable measurement. If you don't have a precise digital kitchen scale, get one. They are like ten bucks on Amazon, work great, and tend to take typical kitchen abuse well.
The goal is to infuse the meat throughout with the quantity of salt and sodium nitrite sufficient to inhibit pathogens and produce the unique flavors and textures associated with cured whole meats like corned beef brisket.
This default recipe is based on 7lbs of boneless trimmed venison roasts brined in a gallon of water.
The calculator: If you adjust the weight of the meat in the recipe to something other than 7lbs, make note of the amount of water the recipe now calls for. Then head over to this handy on-line calculator created by food scientist Professor Greg Blonder: genuineideas.com/ArticlesIndex/nitritecuringcalculator.html.
Set the step 1 slider to 200ppm for venison, or 150ppm if you're slumming it with beef or some other domestic meat. Prof. Blonder says "Venison has a more minerally flavor than beef, so a bit more curing salt is needed to reveal its characteristic 'hammy' notes." Enter the weight of your batch of meat in step 2. Enter the new water amount in step 3. Make a note of the amount of cure now called for.
Then scroll up and, using the thickness and shape of the thickest roast in your batch, enter those values. Make note of the resulting number of days you need to brine to assure proper diffusion of the goodies. If it's more days than you care to wait, read Prof. Blonder's note right below the results. By injecting some brine deep into the roast (meat injector) you can dramatically reduce the time needed to cure, especially with very thick roasts like the football-shaped sirloin. Alternatively, you can always cut larger roasts in half across their thickest point and recompute.
The calculator accounts for how long it will take the cure to diffuse sufficiently through the cuts of meat for food safety and for the safety benefits and wonderful flavor magic to happen. Scroll up a bit more to see a link to a youtube video Prof. Blonder has created to mimic how that diffusion really happens.