This is a great way to show off tougher venison steaks, like rounds. Even a tough old buck that chews like a superball will be fork tender and delicious. It also works for steaks with lots of connective tissue, like sirloin or shoulder. It's serious comfort food! And healthy too — the gravy has no fat but you'd never know it.
One good way to tenderize a steak is to place it between sheets of plastic wrap lubed with a little cooking oil, and use a flat meat mallet to pound it into the desired thickness. Or skip the plastic wrap and use a "toothy" meat mallet.
I cheat and use an
LEM brand meat tenderizer attachment
on my meat grinder and it works like a dream. It's an expensive tool but really well built. Should outlast the owner. I have no relationship with LEM, just a happy customer.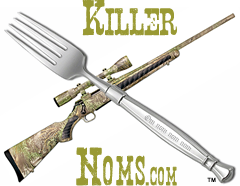 | | |
| --- | --- |
| | |
Tenderize steaks then season both sides with a little salt and pepper.

Mix flour, salt and pepper together (or just use seasoned breading) and place in a pie pan.

Dredge the steaks in the seasoned flour, shake off the excess, set aside.

Position rack to lower middle slot of oven and preheat to 300 degrees F.

Add enough oil to just cover the bottom of a Dutch oven set over medium-high heat.

When oil shimmers add steaks to the pan. Don't overcrowd. Cook until golden brown on both sides, ≈ 2 minutes per side.

Remove steaks and repeat until all of the steaks have been browned.

Add onion and garlic to pot and cook/stir for about a minute, then add the mushrooms and cook/stir about 2 more minutes. You want the onion to caramelize and the mushrooms to start giving off their liquid.

Deglaze the pan using a wooden spatula and the red wine.

Add stock, Worcestershire, mustard and thyme and mix.

Add steaks, nestling into the sauce so they are all submerged.

Cover dutch oven and move to oven for 2 hours.

Remove steaks from sauce (careful, they will be fall-apart tender), cover in foil to keep warm and set aside.

Now, the gravy:

Mix cornstarch with a little warm water to make a thin, pour-able paste.

Slowly add to sauce while whisking.

Apply medium heat and stir until it simmers.