There are as many jerky recipes as there are people making jerky. This is a basic recipe that is great "as is" but also a great platform for tinkering.
Play around with the recipe all you want, but two rules should be followed:
Keep the ratio of salt and soy sauce to meat accurate
If you dry your jerky in a smoker, use a cure.
In anything other than a smoker, you can safely omit the cure, though many people favor the taste of cured jerky anyway.
Cure can be found under multiple names. A couple are "Prague Powder #1" or "Instacure". They may be available from your butcher but are easily found online. No matter what the name, it is a pinkish 1:16 salt/Sodium nitrite mixture (6.25% sodium nitrite).
Some older recipes call it "pink salt" but don't get confused – that term is also used nowadays for salt mined in the Himalayan mountains, which bears a pink color but is NOT a cure.
Or you can substitute "Morton Tender Quick", which is available at grocery stores, which has all the salt in it already.
Sound complicated? Here's an easy to follow guide for 1 lb of meat:
With Cure: 1 tsp salt and 1/3 tsp cure. 4 tsp soy sauce.
With Morton Tender Quick: 1 1/3 tsp Tender Quick. 4 tsp soy sauce.
No Cure: 1 1/3 tsp salt. 4 tsp soy sauce. (Do NOT omit cure if you are drying under smoke using a smoker.)
This recipe works equally well with ground or sliced venison.  If substituting domestic meat, use only the leanest cuts.  When slicing, 3/8″ is a good thickness to aim for, but however you slice it try to be consistent throughout  a batch.  Many cuts will work but I find round roasts are the best.  Trim the meat well before slicing.  Slice with the grain unless you prefer your jerky crumbly rather than chewy.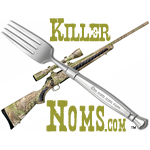 | | |
| --- | --- |
| | |
Mix ingredients except meat well in a glass, plastic or glazed crockery bowl.

Add the meat and mix. With sliced meat take care to see that all meat surfaces get covered. This can take a little manipulation.

Cover and store in the fridge from 1-3 days. Mix a little a couple of times a day.

Place meat on the drying racks of your smoker or dehydrator. If using an oven try a cooling rack. If using ground meats you may want to use a tool designed to extrude the jerky into uniform thickness and width, or into round "snack stick" shape.

Dry in either a smoker, a dehydrator, or a low oven with the door slightly propped open with a wooden spoon or something similar. If using a smoker, follow the manufacturers directions. In a dehydrator process the jerky at about 150°F. Use only dehydrators with a fan and a thermostat. Dry until it is gets a flexible firm texture but before it cracks. The time needed varies widely depending on humidity, thickness, and your smoker or dehydrator. 4-8 hours is typical. Check it periodically.

When done, if there is any fat pooled on the surface, pat the pieces dry with a paper towel while still warm. Let cool before packaging.

Jerky can be stored long term in many ways. Best is in a refrigerator in a sealed jar or plastic bag.
View online at
http://KillerNoms.com/jerky