Think of this as "pulled venison",­ a wonderful and simple way to show off one of the least respected cuts. It's a guaranteed hit, even among folks that aren't too sure about wild meat. Try this just once and you will never again bother with all the fussy cutting and trimming needed to break a shoulder down into separate cuts.
I consider every undamaged shoulder from deer I process to be a prized piece of meat, and they all get cooked whole. If there is broadhead damage consider using it whole if the area can be completely trimmed away. But if it is bullet damage, especially to bone, don't use that shoulder whole – just bone it out and aggressively trim and discard any damage. Use the remaining meat in some other recipe.
This video was taken with a very old cell phone and doesn't make the meat look as good as it does in real life. I used it anyway because it shows the texture well and how the bones pull free.
Print Recipe
Braised Venison Shoulder

Yum
This recipe is simple, and easily adapted to a variety of flavoring styles (Mexican, Greek, bbq, etc).

It's also excellent with other meats — even domestic — so long as the cut is rich in connective tissue. Think shank, heel, neck, and of course shoulder (pork butt or beef chuck roast.

Leave bones in until after it's cooked. You may need to separate the shank from the main shoulder to fit in your pan or cooker.

Properly cared for venison doesn't need any tricks like soaking in milk or whatever. Just trim the external fat and silverskin, slap the brine on, and let 'er rip.

There is one trick you can use. Instead of a commercial rub, nearly all of which are mostly salt, make your own salt-free rub, e.g. KillerNoms.com/venisonrub. So dry rub the shoulder first with 1/2 tsp kosher salt per lb of meat (subtract estimated bone weight, I'd guess 25% for a shoulder), wrap in plastic and refrigerate overnight. Then apply the rub and proceed. Typical rubs are mostly salt. A great trick is to "dry brine" your shoulder the day before with salt, then apply a salt-free rub just before cooking. Some commercial rubs are available in a salt-free version. Or make your own salt-free rub, e.g. KillerNoms.com/venisonrub. So dry rub the shoulder first with 1/2 tsp kosher salt per lb of meat (subtract estimated bone weight, I'd guess 25% for a shoulder), wrap in plastic and refrigerate overnight. Then apply the rub and proceed.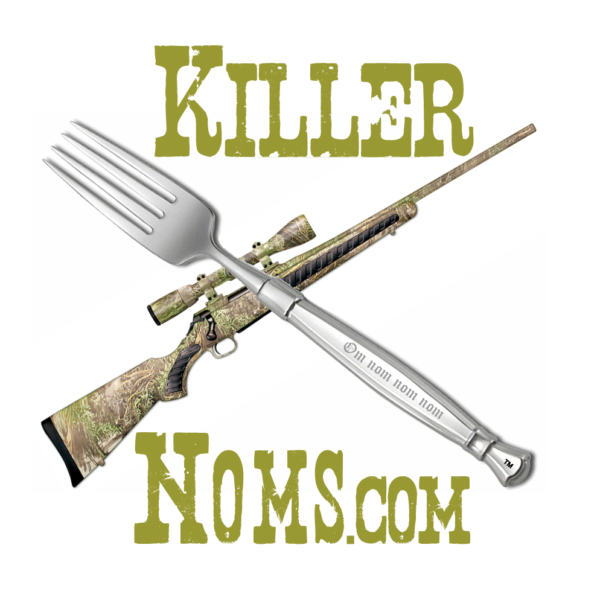 | | |
| --- | --- |
| | |
Trim shoulder, aggressively removing any shot damaged areas. Smear with mustard. Apply rub liberally—don't be shy. If rub is not salt-based, first rub with salt.

Wrap in cellophane and refrigerate overnight in something to hold leaks.

Unwrap and place directly on the bottom of a greased roasting pan (no rack or grate).
If the whole shoulder won't fit, separate the shank by working a knife through the joint. No need to be fussy about it, you'll soon be pulling the meat off the bones anyway.

Drizzle a little olive oil over roast and add mirepoix (onion/carrot/celery).

Place in oven, uncovered. Turn occasionally until evenly browned (an hour or so).
Add braising liquid to about 1 inch depth, or about halfway up the meat.
No need to be precise, but two things you should NOT do: completely cover the meat, or run out of liquid while cooking.

Cover pan tightly with a lid or aluminum foil and return to oven.

After 2 hours raise oven to 250­°F

Check every hour or so to see if more liquid is needed. Also check the meat consistency. When it is fall­-off-­the-­bone tender, it's done. The bones should easily pull free and clean (see the video above). It should take about 5-­8 hours depending on the size and/or age of the deer. If using domestic rather than wild meat the cooking time may be shorter.

Remove the meat from the bones, cover in foil, and set aside.
— Make the sauce! The braising liquid is now supercharged with great meaty flavor. Making a sauce is a great idea with any braised meat—but doubly so with a lean game meat.
Strain the liquid. Ladle off any visible fat.

Mix well 1 tbsp cornstarch with 1 tbsp. cold water to make a thin, pourable paste. Slowly whisk into the braising liquid. Simmer briefly to thicken.

Season sauce to taste (it will have lots of your rub in it already) and either serve on the side, or pour over pulled meat and lightly toss. If necessary return meat to oven covered, to bring it back up to serving temp.

An alternative to making this sauce is to save and freeze the strained and de-fatted braising liquid. Use it to braise your next venison shoulder. The flavors will intensify with every generation. But freeze it right away—it's highly perishable.

If you aren't making the sauce, consider adding a little fat (lard might be best) to coat the current batch of pulled venison before you toss.
Best kept hot and served right away. It refrigerates and freezes fine, but venison can be dry when reheated and may benefit from some liquid or fat tossed in.
The best stock for braising liquid would be venison or beef. Home made is best.  If you don't have that much stock handy, "Better Than Boullion" base (beef or pork or vegetable) is a fine substitute. It's cheap and good and, yes, way better than bouillon.  Most grocery stores have it in the soup aisle.
The recipe is also perfect for shanks and heels from the hindquarters—tough cuts with LOTS of connective tissue.  They are transformed from a grinder-clogging annoyance into a lip-smacking treat.  I freeze them whole (no trimming - yay!) and toss a couple in with the shoulder if there's room.