Of course this works best with wild birds like turkey, pheasant or a big mess of quail. But you can substitute storebought poultry.
Use a stockpot with at least twice the capacity of your water by volume. A bit bigger is even better
Chopping or cracking the bigger bones helps.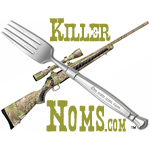 | | |
| --- | --- |
| | |
First reserving about a third of the mirepoix, toss bones and mirepoix in oil, then season lightly with salt and pepper.

Place on rack in large roasting pan, or separate meat/bones and vegetables into 2 smaller pans.

Roast until golden brown, about 30 to 40 minutes. Optionally turn the bones about halfway through.

While the bones are roasting, cut and save stems from parsley bunch. Chop and reserve the leaves.

Transfer roasted bones and vegetables to a large stockpot, add the remaining ingredients (except parsley leaves and reserved mirepoix).

Deglaze the pan with wine or a little water, pour into stockpot.

Add cold water to cover everything then bring to a boil over high heat.

Once boiling reduce heat and simmer lightly 4-6 hours, skimming the schmutz that rises to the top with a ladle every 20 minutes. (no need to be fanatical about the skimming).

Half an hour before removing from heat add the reserved mirepoix to the pot.

15 minutes before removing from heat mix in reserved parsley leaves.

Remove from the heat and strain through a mesh strainer into a clean pot. You can let it cool a bit first to make easier to do comfortably.

Optionally place back on the stove over high heat and cook until reduced by half (much richer)

Use immediately or let cool to room temperature, cover, and refrigerate or freeze until ready to use. Refrigerates up to 4 days, freezes forever. See KillerNoms.com/WildGameStock.php#storage for details on storage.